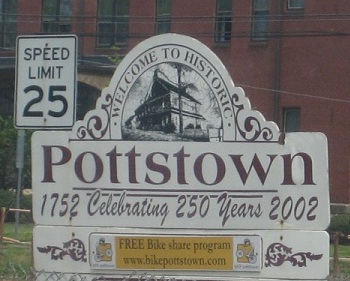 A recent Patch poll asked Pottstown residents what keeps Pottstown from success. With crime ranking among the top concerns, it is worth taking a closer look at just how bad crime is in Pottstown. The results are quite disturbing.
It is important to note that crime is split into two categories – property crime and violent crime. The measure of each is a number of crimes for every 1,000 residents. Property crime consists of burglary, theft, larceny, motor vehicle theft, and arson. Violent crime consists of murder, rape, non-negligent manslaughter, armed robbery, and aggravated assault, including assault with a deadly weapon.
According to NeighborhoodScout, a highly ranked real estate search website – "Pottstown has one of the highest crime rates in America compared to all communities of all sizes." So I set out to compile some data and find out just how bad it really is. The following is a ranking of crime in Pottstown along with 12 other nearby cities. Pottstown has a property crime rate 107% higher than the state average – the highest of all cities listed. Pottstown even has a higher property crime rate than Philadelphia.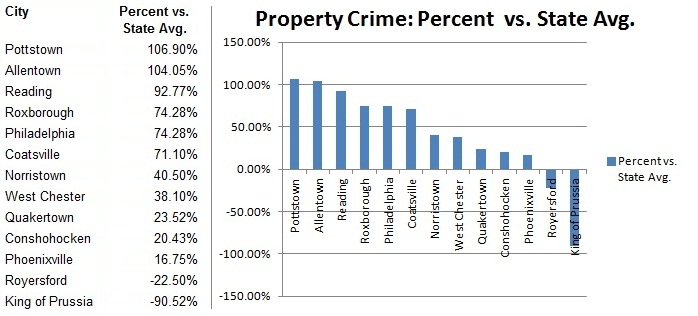 Fig 1. Property crime percentage over state average.
In a comparison to the same cities listed, Pottstown has a violent crime rate 171% higher than the state average – the fifth highest of all cities listed.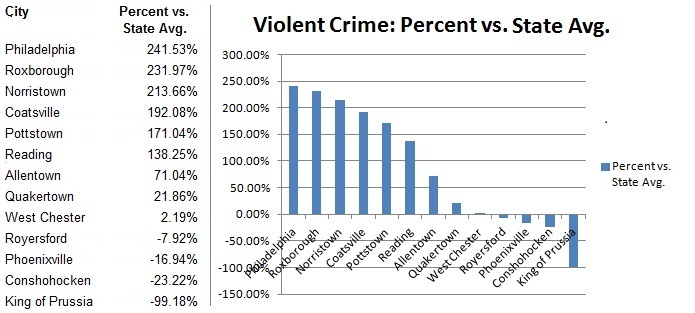 Fig 2. Violent crime percentage over state average.
Compare the raw numbers. Pottstown has a crime rate of 55 per thousand residents. The chance of being a victim of either violent or property crime is one in 18. The figures below contain the crime rates of nearby cities.
Property crime.
State Avg: 21.73
Violent crime.
State Avg: 3.66
Pottstown
44.96
9.92
Allentown
44.34
6.26
Reading
41.89
8.72
Roxborough
37.87
12.15
Philadelphia
37.87
12.5
Coatsville
37.18
10.69
Norristown
30.53
11.48
West Chester
30.01
3.74
Quakertown
26.84
4.46
Conshohocken
26.17
2.81
Phoenixville
25.37
3.04
Royersford
16.84
3.37
King of Prussia
2.06
0.03
Fig. 3 Property and Violent crime rates among Pennsylvania cities.
How does crime in Pottstown rank among other cities nationwide?
While Pottstown is in line with the top five for violent crime, property crime remains the most concerning. How does Pottstown compare to other cities around the nation? Not good.
Pottstown has a higher property crime rate than Los Angeles, Chicago, New York, Philadelphia and Compton
.
Fig.4 Property crime comparisons among major cities.
According to Neighborhood Scout:
Violent crime rate in Pottstown is one of the highest in the nation.
Pottstown has one of the highest rates of motor vehicle theft in the nation.
The chance of becoming a victim of a property crime is one in 22.
The chance of becoming a victim of one of these crimes in Pottstown is one in 101.
But is the data from NeighborhoodScout accurate?
The data from neighborhood scout drives other sites such as locationinc.com. NeighborhoodScout has been used in reports on AOL's DailyFinance. But it still does not answer whether the data is accurate. NeighborhoodScout's disclaimer states no warranty of accuracy, although the algorithms used claim to provide enterprise-grade data. It is therefore important to look at a second source, BestPlaces.net/crime.
According to BestPlaces, crime data is compiled from the Federal Bureau of Investigation and the Uniform Crime Reports. Plugging Pottstown into the site reveals not the level of detail NeighborhoodScout provides, but provides a general crime index from 1-10. Based on FBI data, a higher number corresponds with more crime. With a state average of 4, Pottstown ranks 9 for violent crime and 7 for property crime.
Using BestPlaces and comparing the same cities in PA above, Pottstown has a higher crime rate than Allentown, Reading, Philadelphia, Coatsville, Norristown, West Chester, Quakertown, Conshohocken, Phoenixville, and Royersford. In addition, BestPlaces supports NeighborHoodScout in that the crime rate in Pottstown is higher than Chicago, New York, Compton, and Los Angeles.
This data clearly supports Pottstown residents' concern of crime in the poll. Whether it keeps Pottstown from success is a decision for the individual. But ask yourself, can a city with an actual or perceived high crime rate be successful?
---
Threatcore Project 2011 - Keeping watch of events from over 200 sources to bring essential tech news.