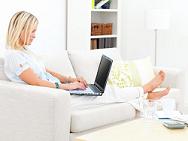 Threatcore brings you daily news of internet threats, identity theft and technology breakthroughs. We've reported news from threats targeting large companies, to individual families. So how do you make yourself safe?
This internet security tips page is only the beginning of a safe web experience and only brushes the surface of internet security. It is however, a good start and touches many important items to follow. With the increase in identity theft and online scams, it was important for us to release some basic tips to protect yourself. See our web tracking tips for tips on how to to make your browsing experience secure and safe. Some simple easy to follow tips will keep you safe.

MY RECOMMENDED (AND TESTED) PC SECURITY TOOLS


When walking away from your computer, lock it. Windows users, press the Windows logo key + L (Windows logo key is usually the bottom left of the keyboard). This keeps your PC secure from others while you are not present.
NEVER click on junk mail "remove me" links. Hackers and spammers send between 1-10 million random emails per day. Clicking on the "remove me" link sends an reply back to the spammer telling him your email is active and live. Your email can now be sold to others resulting in an increase in more junk email.
Use strong passwords. Your password should contain a symbol, a capital letter and at least eight characters long. Software programs are designed to crack passwords. The stronger your password, the more secure. Use a password program such as Keepass to keep your passwords locked away without having to remember them all.
Never visit your banks website through an email link. Enter the web site of your bank directly into your web browser.
Use Mozilla Firefox over Internet Explorer as your web browser.
Don't trust free downloaded antivirus software. We've seen too many times of infections with free antivirus software. We're often asked if free antivirus software from your internet provider is ok. It certainly helps and is more trusted than downloadable antivirus software. Be cautious that the internet is filled with fake antivirus scam pop-ups which alarms you of an infected computer. These are attempts to lure you into downloading malicious software.
Use caution with portable USB drives. Infected drives account for a large percentage of worm outbreaks.
Verify all of your programs (Adobe, Office, Java) are up to date with the latest patches. Often, hackers can exploit vulnerabilities with these non-updated programs.
Windows users: Use automatic live updates to be sure your computer has the latest security upgrades.
Be sure your antivirus software has the latest updates (commonly known as "virus definitions"). With new threats daily, you need the latest updates in order to protect from today's threats. Having ANY antivirus software without the latest updates is like having no protection at all.
NEVER use legitimate birth dates and birth towns on social networking sites. Hackers can accurately guess social security numbers with this information for identity theft.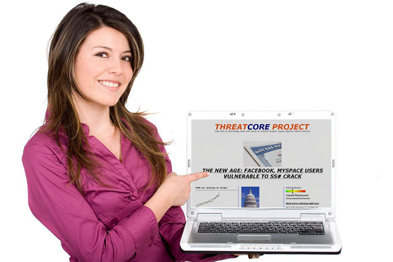 ---
Copyright ThreatCore 2012 •
Threatcore.com
•